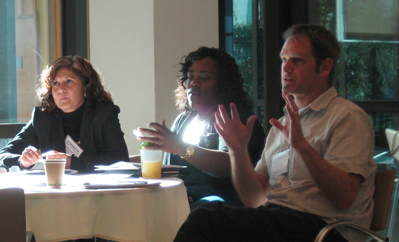 The Homeless Youth Capacity Building Project is excited to be offering a valuable opportunity for youth-serving organizations to learn and practice the concepts, strategies and tools of Performance Management.
Through the Series, participants will complete hands-on projects to learn how to:
use the Plan-Do-Check-Act Cycle to support ongoing program improvement

create useful program outcomes and indicators

develop process maps for key activities

work in teams involving a variety of stakeholders

collect, present, and analyze data in order to address challenges and make better decisions
To supplement the learning, participants will receive up to $1,500 of capacity building support in the form of consulting, coaching and tools such as data collection software.
Thanks to generous support from the Corporation for National and Community Service, the Ahmanson Foundation, California Wellness Foundation, S.H. Cowell Foundation, Morris Stulsaft Foundation, and the Walter S. Johnson Foundation, the Performance Management Training Series is free of charge to all cohort participants. Travel stipends are available to participants for any travel over 40 miles round trip to attend in-person trainings.
The application for the 2013 Performance Management Training Series is closed. Please check back later in the year for information on future training series.
TRAINING SERIES MAIN
"As a result of what we learned about performance management, we've seen our numbers of youth served increase right away and the atmosphere in the shelter has improved."
–2012 Cohort Participant Jackie Moot, Shelter Director, Operation Safehouse, Riverside County
---
"The trainings on performance management have been extremely beneficial. It has helped not only the program I run to grow, but also the other programs that we run. It has generated lots of staff engagement, team building, and brainstorming."
–2012 Cohort Participant Andria Innerbichler, Program Director, Inland Temporary Homes, San Bernardino County
---
"The in-person trainings and webinars gave our organization a great opportunity to network with other organizations with similar programs."
–2012 Cohort Participant Jessica Saint-Paul, CEO, CHAIN Reaction, Los Angeles County
---
"The process has helped inform our strategic plan, to ensure that new procedures will be sustainable and lead to outcome goals."
–2012 Cohort Participant Nick Taylor, Training & Evaluation Manager, My Friend's Place, Los Angeles County